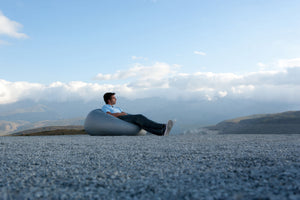 We have a fantastic bean bag beans filling station in Melbourne where our staff with over 20 years experience can get your bean bag expertly filled to look and feel fantastic with King Kahuna Beans.
King Kahuna Filling Services
Please call us on 9370 2088 to book a time for bean filling - minimum of 2 Hours BEFORE your preferred booking time.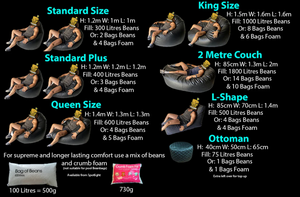 Depending on the style, size and number of bean bags you need filled, we may require you to leave the bags with us overnight for next day pick-up.
King Kahuna
DOUBLE STRENGTH - DOUBLE DENSITY ™
King Kahuna Beans are great value for money and are made using high quality, industrial-strength, insulation materials.

Our DOUBLE DENSITY beans are manufactured with high quality, industrial strength polystyrene and are combined with high density SUPER SOFT shredded memory foam giving you superior long lasting support and supremely luxurious comfort.
Bean Recycling Centre
Q. For years we have been asked, What do I do with my old beans?
A. Don't throw them in landfill, take them to King Kahuna to be recycled instead.
We offer a bean take back recycling service. We recycle to donate. * Terms and conditions apply.